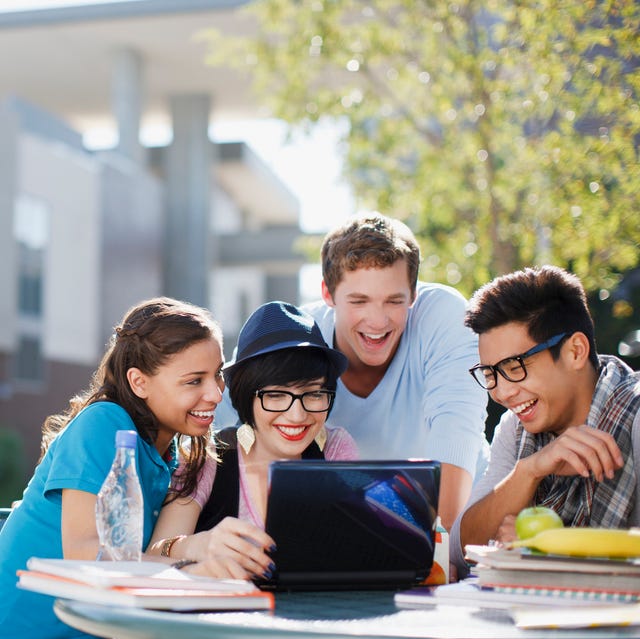 While it's always great to meet face-to-face, in today's connected world, there are so many advantages to online tutoring. The best online tutoring websites have thousands of instructors at every student's beck-and-call, so kids can call up homework help if they're up at 3 a.m. cramming or have a 15-minute window before heading to their high-school job. And since the schedules are so flexible and require less of a time commitment (and don't involve a commute to a physical location), these sites can attract better instructors, with many holding advanced degrees in their stated subject areas. And many offer connected workspaces with digital whiteboards, collaborative text editing, and other tools that make students and tutors feel like they're right in the same room together.
Plus, with so many tutors in these networks, you're not just limited to the tutors who are available with our immediate area. That means within minutes, your students can be connected to an expert in whatever subject they need help in, from K-12 reading and math to advanced engineering to nursing. And it goes beyond academic subjects, too: You can also find assistance getting through figuring out college tests and essays, writing a resume, or doing a job interview. With that much brainpower at your fingertips, who wouldn't sign up?
Chegg
With Chegg, you can pay $6.95/lesson for one on-demand chat with a tutor, or $30/month for an hourlong virtual session with a live whiteboard — prices students can afford. In addition to a variety of academic subjects, tutors are also available to help students navigate the college admissions process.
Club Z
Club Z is committed to finding the right match between tutor and student; students chat with tutors online before they book the appointment, and, if they're not satisfied after the first lesson, the service will refund the first hour. It also does in-home tutoring, and prices are available upon request.
Learn to Be
For those who balk at the high cost of online tutoring, Learn to Be is a nonprofit that offers free and low-cost services for students who need it. (You choose if you can pay.) The caveat: This isn't on-demand tutoring; you'll need to fill out an application, which has sections that parents, school teachers, and students need to complete, before starting.
The Princeton Review
The Princeton Review acquired the popular Tutor.com, making it a one-stop shop for homework help, test prep, and tutoring — and it claims that more than 5,000 students take advantage every night. Pricing plans start at $0.75/minute for on-demand questions to $115/month for three hours of lessons and a better-grades guarantee.
Skooli
Skooli has a pay-as-you-go pricing plan of $0.82 per minute, which is good if you're stuck on a tricky homework question or want some last-minute study help — you can connect to tutors 24/7. The site has tutors for all subjects and grade levels, including ESL or business courses, but math is a primary focus.
Smarthinking
Pearson's Smarthinking boasts that 90% of its tutors have advanced degrees in their subject areas, so they know their stuff. There are tutors for every subject, but writing is the emphasis — as are resume reviews and interview prep, when it comes time for your student to enter the workforce. Prices range from $25 for one essay review to $125/month for four hours of online tutoring.
SpecialEdTutoring.com
Students with special needs require tutors who understand their learning styles. All of the this site's tutors have at least a Bachelor's Degree in special education, and the tutors find that the students do well with online tutoring because they're in a comfortable and familiar setting (ie, home). Rates start at $25/hour
TutorMe
TutorMe claims it only accepts 4% of the tutors who apply to work with the site, so students only receive the best instructors. Lessons take place in a virtual classroom with a whiteboard, text editor, audio/video chat, and screen-sharing capabilities, and afterwards the lessons are archived for later review. Prices range from $1/minute for quick homework help to $119/month for four hours of lessons.
Varsity Tutors
For a truly mobile tutoring experience, Varsity Tutors has an innovative app that lets tutors and students edit documents or work on math problems collaboratively. It's helpful for students who may need help when they're away from their laptops, either between classes or before sports practice. Pricing is available upon request.
Wyzant
Wyzant boasts it has more than 80,000 instructors lined up ready to help students with their studies. There are also a huge number of lessons already archived on the site, so students can brush up on popular concepts and quiz themselves to see where their weak areas are before booking a tutor. Prices vary by tutor and level of expertise.